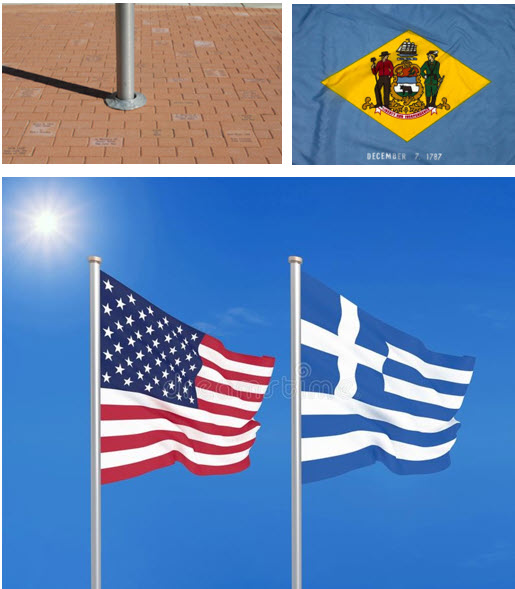 Be a part of the legacy of Odyssey Charter School by purchasing an engraved brick. What a great way to honor your connection with Odyssey Charter School.
The OCS PTO will be initiating our first Personalized Brick Fundraiser Project. You can now buy an engraved brick that will be the foundation of a flagpole. Odyssey Charter School will be memorializing flag poles in front of each building. The flag poles will display the National, State and Greek Flags. Donor personalized brick pavers will be set in place as a border around the flag display in front of each building.
Students, Teachers, parents, Grandparents, families, businesses, school associated organizations, and friends of OCS have the opportunity to own a brick - " ensuring names and memories remain on campus.

You can order multiple placements, one for each of your children, student graduate, grandchildren, parents, or to acknowledge a sports team, the Green Team, Honor Society, Student Council, a game club, OCS Family businesses, and/or investors.
The options for the bricks are:
Silver: 4x8: 3 lines, 18 characters - $100
Gold: 8x8: 6 lines, 18 characters - $300
The silver sponsor will be featured in the PTO newsletter for April. You can send us a business flyer that we will put in our newsletter or a picture of your child with a short message.
Platinum Sponsor: 12x12 brick: 10 lines, 18 characters - $1000
The Platinum sponsors will be featured on the PTO website, Facebook advertisements and PTO Newsletter for April 2021. Your company's information will be seen by approximately 2000 families in our community. Your business will be featured twice a month on the PTO Facebook post from April 1, 2021 until June30, 2021 Your company's brick will stand out from the rest. You or your company will be invited to the Flag Ceremony.
Donor Array Bricks Personalized $5000 Same benefits as the Platinum Sponsor. Contact the PTO at odysseycharterschoolpto@gmail.com to customize and purchase the Donor Array.
Donors replica Brick for your home or office
Order a donor brick for your home or office for display - 4x8 brick for $75.00 and 8x8 bricks for $200 to commemorate your support to OCS. The project will continue in stages with our first stage being dedicated in March 2021.
The proceeds of this fundraiser will benefit the flagpole placement, flags and installation of the poles and personalized brick pavers any remaining proceeds will be used to further support initiatives in school branding.