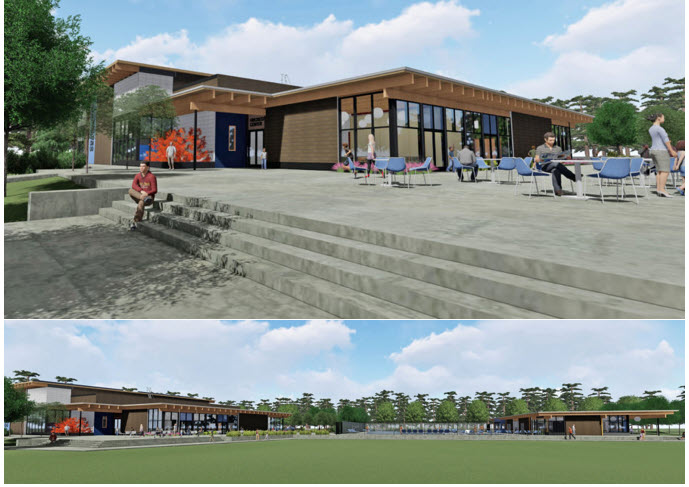 How did we get here?
Since 1960, the heart of our community has been the Roy H. Murphy Community Center and Pool, located in Fircrest's 21-acre park system. Generations of families have enjoyed pool time, pancake breakfasts, senior events, and youth and adult sports here. But after nearly 60 years, the community center and pool have reached the end of their useful life.
In April 2019, Fircrest citizens came together around a shared vision:
To build a modern community center and pool with safer, more efficient, and larger facilities to better meet the community's needs through additional recreational opportunities – A Gathering Place for All.
You Can Buy A Brick!
These bricks will be placed in the plaza on the northeast corner of the community center, which is sure to become a popular gathering spot overlooking Fircrest Park. Installation is slated to begin in the Fall of 2021.
We are offering an 8" x 8" charcoal-colored brick for $100. You can have up to 6 lines with 18 characters per line to recognize your family, or perhaps parents or grandparents or other loved ones.

Details:
All orders must be processed by March 31, 2021.
You will receive a confirmation e-mail 10-14 days after the order is received. Once a confirmation email is received, no changes or cancellations will be made. Please be sure to check your spelling before purchase.
** The City of Fircrest reserves the right to review all text for appropriateness and to decline those that do not reflect the spirit of the project. **


Introducing the Fircrest Parks and Recreation Foundation
A group of residents established the Fircrest Parks and Recreation Foundation to support parks and recreation programming for Fircrest. As the endowment gets started, the City of Fircrest has agreed to partner with the Foundation in the following way: Anyone who pledges $1,000 or more to the Fircrest Parks and Recreation Foundation by January 15th will have their names included on two donor recognition pieces that will be placed at both the pool and the community center. This pledge can be fulfilled on a multi-year payment plan.
Please, visit the website below to learn more about how to support this very special cause. The Fircrest Parks and Recreation Foundation can be found at the new website: www.FircrestForever.com .