Being tasked with starting a fundraiser for an organization is a big responsibility. Even if some of the plans have been made, you'll still need to choose the best vendors, as well as find ways to encourage your donors and friends to make donations in support of the group. Here, listed below, are a few good reasons to work with Bricks R Us for your next fundraiser.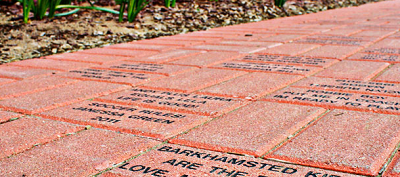 Simplicity
No Contracts – Bricks R Us doesn't require you to sign a contract. We think you'll be so pleased with our services you won't look elsewhere.
Free Shipping – At Bricks R Us, your total cost for the brick includes engraving and shipping. You don't see this at many places.
Online Ordering System – Enter the information for each brick into the online ordering system, and then submit the entire order when you're ready. This process is simple, convenient and modern.
No Per Line Charges – We don't charge you for extra text engraving per brick.
Peace of Mind
Quality and Experience – Bricks R Us has more than 25 years in the business and is one of the largest brick engraving companies in the United States.
Installation Instructions – We understand that you probably aren't an experienced stone mason. While we can't put the bricks in for you, we're happy to provide the instructions.
Lowest Price Guarantee – If you find a cheaper price at our competitor, show us, and we'll beat it.
Fundraising Tools – We want to help you achieve success in your fundraising efforts and do so by providing free fundraising tools, including the design and set up of a secure Donor Site that accepts credit cards; the getting started guide; an online ordering system for the fundraising committee; iPhone/Smart Phone App and more. Also, through our online ordering system, donors may place their own orders, and your organization can print invoices, create proof sheets or donor reports.
Customer Service
Guarantee — If installed properly, our bricks are guaranteed for life.
Order Forms – We can send you the order forms in Word or Excel so you can edit them as necessary. However, if you aren't comfortable with the computer, we'd be happy to customize the forms for your organization.
Bonus Brick Program – The more bricks your organization purchases and engraves through Bricks R Us, the more bricks you're eligible to order free of charge. You can use these savings to put back into your mission.
Submitting Your Order – We're happy to accept your order in any format – U.S. mail, e-mail, fax or through the online system on our website.
24 Hour Policy – We promise to always respond to your emails, phone calls or order submissions within 24 hours.
At Bricks R Us, we'd be happy to answer any questions you have about raising money with brick fundraisers. For more information on our products and services, contact us today.
Image Source: Bricks R Us