Thank you. It's one of the simplest – but most powerful – phrases in the English language. As children, it's one of the first things we're taught to say. As adults, we'll perform huge tasks for family and friends, with only a sincere "thank you" as payment. In fundraising, "thank yous" are equally important, and recognizing your donors is a big part of that process. Here are some reasons why donor recognition is important to your fundraising project:
The Long Haul
Some organizations are only focused on today and the one fundraising project on their plate at the moment. Once the donation is secured, that donor falls off their radar. When thank you letters (mandated by the IRS) eventually go out to donors, they're slow to arrive, bland, unoriginal and often don't truly meet IRS requirements anyway. In short, they leave donors wondering why they bothered supporting this organization in the first place.
Smart organizations realize that every good interaction with a donor strengthens the relationship between the donor and the organization's mission, including thanking the donor. Even if the donor gives less this year than last year, a wise fundraiser knows that retaining that donor year after year is often worth more to the organization in the long run than one single big gift from someone else.
To be successful for the long haul, organizations need to make their fundraising and communication plans with both today and the future in mind. This may require better-written and informative gift acknowledgement letters, handwritten thank you notes from board members for large gifts and quarterly (hardcopy) newsletters to all supporters.
Timing Your Gift
If your leadership team decides to send out thank you gifts to big donors, the timing is very important. A gift sent too soon after a donation may make donors feel uncomfortable. Generic year end donor gifts are nice, but quickly forgotten. However, when a mission-appropriate thank you gift is presented to a donor about a month prior to your next fundraising drive, it will help boost your rate of return on that fundraising effort without negative results.
Permanent Recognition
If your fundraising effort involves large sums of money, you might wish to recognize the contributions of your donors in a permanent public venue, such as an interior donor wall or a brick garden walkway. Although some donors may balk at the thought of receiving gifts from the organizations they support, most don't mind being recognized for their support via a brick in a walkway or a tile in a donor wall. Another great way to thank your big donors is to provide them with a souvenir brick that matches the real one, or a certificate that shows what their brick looks like.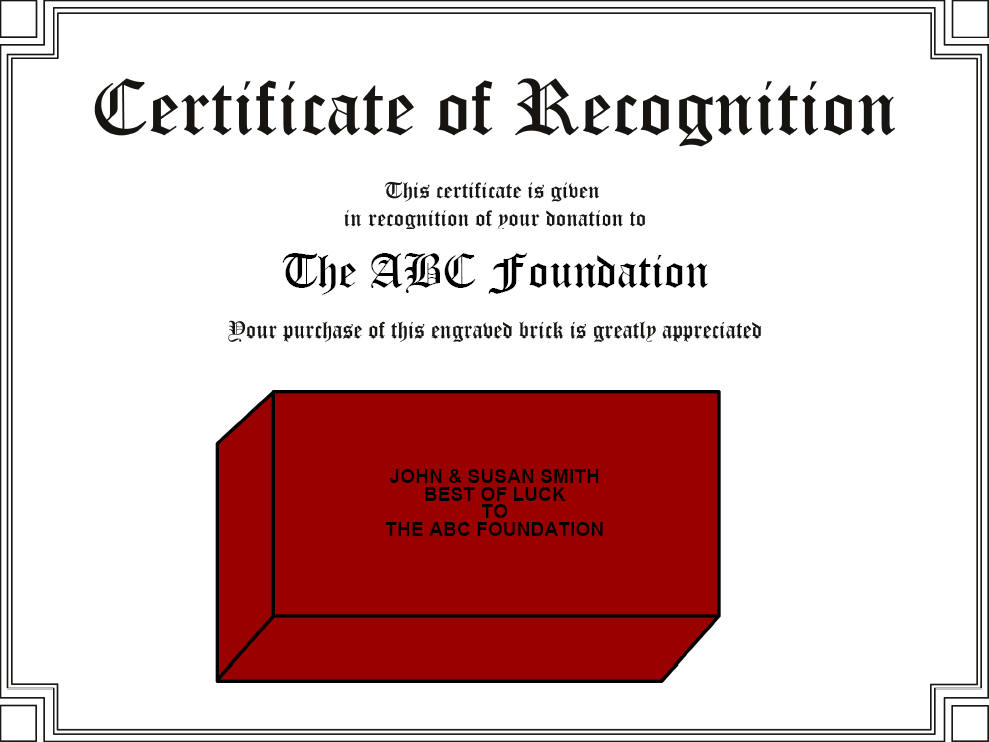 If your organization has questions about donor recognition gifts, contact Bricks R Us today. We would be happy to assist you with both your fundraising and donor recognition efforts.