Fundraising with bricks is the perfect way to create a buzz. Why? They're under your feet. They're part of your walls. Steps are made of them. The ancient Egyptians forced their slaves, the Israelites, to make them by hand – at least until Moses launched his successful "Just Say No" campaign.
They are bricks; and they're certainly not modern marvels. Bricks – which are blocks of kneaded clay-bearing soil, sand and lime – date to 5,000 BC, according to Wikipedia. The air-dried versions are considerably older than their conventional fired brethren.
While lacking the splendid technological gadgetry of so many of today's implements, bricks are ancient – and arguably timeless – marvels that have shaped human civilization.
They're also powerfully effective instruments for fundraising. We at Bricks R Us, your premier brick engravers, specialize in brick engraving and can help bring your efforts alive.
What can we do for your fundraiser?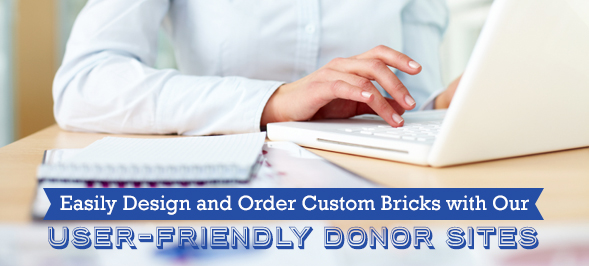 Besides supplying you with beautifully crafted and intricately designed bricks, we at Bricks R Us can guide you through the arduous process of fundraising.
With so many twists and turns and challenging obstacles that can hinder your progress, you may need direction and information. We are the experts and we will walk with you every step of the way to brick fundraising success.
10 Reasons Why You Should Fundraise With Us
Here's why we're a success at what we do – and why we want to translate our success to you:
We make customer service our top priority. We want to make sure you're satisfied in every stage in the process. That means you can call us anytime to hear our happy voices.
We're the only ones who do engraving on any brick material with our two-type engraving system – laser and sandblasted.
We are the only brick engravers who do online ordering which allows you to enter your inscriptions, see all of your current and past orders, print donor reports, capture donor site credit card information and send thank-you and verification letters.
With our customers in mind, we were the first to offer user-friendly donor sites. Other companies have attempted to mimic us, but we're the only ones who modify the donor site to fit your specifications, collect your information and send it to the Online Ordering System, all on a secure server.
We're also the only ones in the book who accept your order by any means you send it. Use our Online Ordering System with integrated Online Brick Creator, or send us your designs by mail. We will always send you a proof sheet before we place any order.
No limits. However many bricks you need we'll provide: one or more than 20,000. It makes no difference to us. We want to serve you.
Website access is important to us. That's why we're the only ones to offer access to our brick-engraving site on iPhone and Android Apps.
We are the only engraving company that will inscribe on any type of brick or tile. If we don't have it in stock, we'll find it or use the material you provide.
Are you in a hurry but don't want to pay for rush delivery? Don't worry. We don't charge rush fees and we ensure your order is correct and on your doorstep on time.
Comparison shopping? We will match any price from other brick engraving companies. We're dedicated to providing you with the best products at the lowest prices.
Our customers are our most important commodity. Your success is our success. We have a complete fundraising guide: Go to our contact tab and request our free "Getting Started Guide." We can also send donor order forms.
Are you thinking of doing a brick fundraiser? Let us know. We'd love to hear from you and help you in any way. Visit our website and request a free brick sample.