Looking for the perfect wedding souvenirs for your guests? Give your guests the gift of personalized souvenir bricks.
Guests will absolutely adore these miniature bricks personalized with their name engraved on them.  With something special and personalized like this, they are sure to remember your wedding for a long time to come. And isn't that what every bride and groom wants?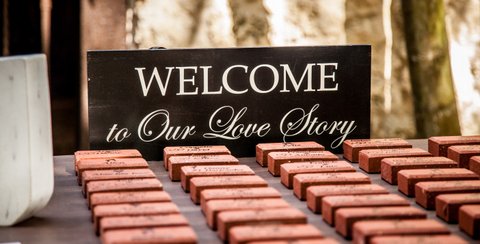 At Bricks R Us, an engraved brick company, we love sharing unique ways to use our engraved bricks with our customers and readers of this blog. With the smallest size at 1.5 x 3 x ½ inches, souvenir bricks make the perfect keepsake.  Keep on reading for more reasons to use souvenir bricks for your wedding or special event.
Table Placements
Souvenir bricks are perfect for table placements for your wedding, especially if it's an outdoor or rustic wedding. Guests find their bricks and a table number is attached. This makes it so easy for your guests. Just grab their engraved brick and head to their table. When the wedding is over, they have a personalized keepsake.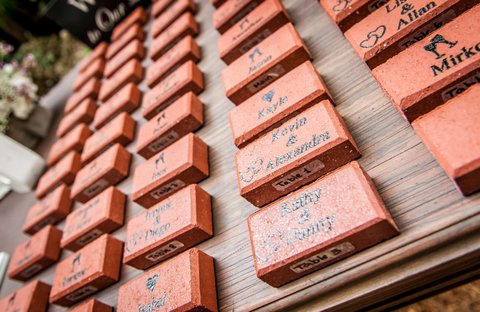 Great Symbolism
We've all known since childhood about the strength of bricks as building material. Remember the three little pigs? These small souvenir bricks can be symbolic of the strong support from friends and family that has helped get you to this day. In essence, they have helped to build this momentous occasion with you and together you are all building new memories.
 Important Dates
For some brides and grooms, it's all about their wedding date. The three sets of numbers for the month, date and year, when placed all together, have a certain something about them. Like 1/5/15 and 5/5/15 this year. Couples often are picky about a wedding date.  Imagine souvenir bricks with just the date, a wonderful keepsake from a wonderful event. This could also work for special anniversary parties, building dedications and more!
These are just a few of the creative uses for souvenir bricks. What other suggestions do you have? Comment below or reach out to us on any of our social media channels. We'd love to hear from you.
Want to share this blog online? We've got the tweet ready for you!
Give your guests the #gift of personalized souvenir bricks! #WeddingPlanning #Wedding https://t.co/pV9sTcBObb pic.twitter.com/3ouKQrNuyN

— Bricks R Us (@bricksrus) November 20, 2015