GET ACCESS TO EVERYTHING RIGHT AT YOUR FINGERTIPS!
We are the only brick engraving company to offer this free, Online Ordering System Mobile App. It's currently available for all iPhones and the updated Android App will be coming soon! Take advantage of our easy-to-navigate menu entries, along with the ability to print detailed reports, proofs, and invoices at any time.
Feel safe using the app as your information is protected by your user name and password which is the same as your Online Ordering System account..
As we continue to strive to bring you the best tools at no charge and to make our systems work for you, you'll come to understand why we consider ourselves "more than just your brick engraving company."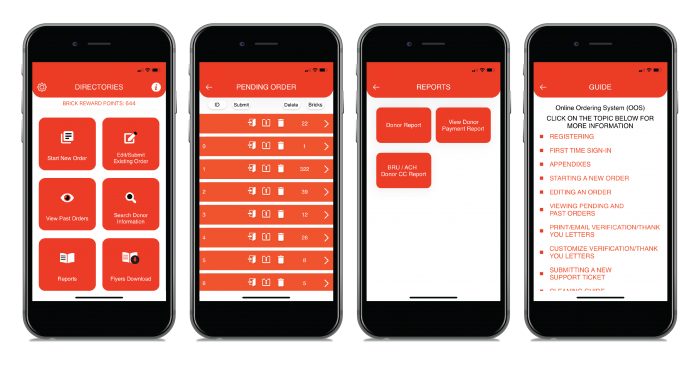 Features
Have a Donor Site with us? Get a notification when a donor buys a brick!
Enter brick inscriptions as you sell them or one at a time
Enter donor information (name, address, phone, email, donation amount)
Email customizable verification and appreciation letters to your donors
Keep track of donor payments
View past and pending orders
View order details such as shipping date, payment received, and tracking information
Have multiple people enter information from any mobile phone
Pick your own shipping date
Available 24/7 from any internet connection
Secure platform
Ticket system customer service
Pay for your orders electronically via e-check or credit card
Link to your brick fundraiser donor site