Brick campaigns have been successful for many organizations, both as a fundraising vehicle and a physical symbol of public support. Some groups only sell standard-sized bricks for ease of placement, while other organizations utilize multiple sizes and colors. An important element of the "brick" fundraiser that is often overlooked are the engraved benches, which is our Bricks R Us product of the month.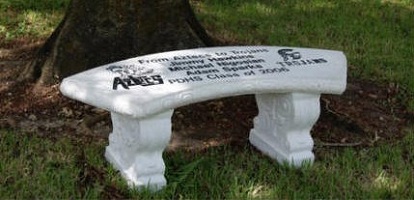 Engraved benches make a great addition to a brick fundraiser. They're an attractive accessory to a brick walkway, plaza, or courtyard. Engraved benches can also be placed far away from a brick display, as not to clash with the present aesthetic, and they can include a flower garden, meditation space, or fountain. Commonly, these benches can be seen distributed throughout institutions like national parks, college campuses and government buildings.
How does the ordering process work?
Including engraved benches in your fundraiser works much the same way as "selling" bricks. The nonprofit determines the donation amount for each engraved bench. Then, donors (individuals or corporations) choose what they wish to have inscribed on the bench. The inscription can include symbols, as well as logos – even in color! However, there may be additional fees for logos and colored engraving.
Why Offer Engraved Benches?
Fundraising committees love the versatility of engraved benches, like those at Bricks R Us, for a number of reasons:
Giving Levels – Engraved benches provide another donor giving level for organizations. Even if your organization only wants to work with one size and color of brick, you can create additional income stream for your brick fundraiser by selling engraved benches.
Utility – Donors aren't all interested in the same things. Benches give your organization other choices for donors, especially those who don't seem very interested in bricks.
Recognition – Even organizations that don't include benches in their brick campaign can still use them to recognize major donors. Placing engraved benches around the perimeter of a brick plaza is an excellent way to recognize your largest donors.
Control – Just like with bricks, your organization controls the choice of the bench or benches, the price points and the placement of the benches. Plus, benches are ordered as needed, so there's never any leftover merchandise.
Who Buys an Engraved Bench?
Engraved benches are just as popular with donors as they are with fundraising staff. Benches are often utilized for the following:
Group Donations – Alumni class gifts, employee group donations, PTA gifts to the school and more.
Corporate sponsorships – A donation, but also marketing in the local community.
Memorial Tributes – Especially important if the deceased was a supporter of the organization.
If your organization wants to recognize major donors or add another donor level to your fundraiser, consider engraved benches. Do you have questions about utilizing engraved benches in your fundraising or about fundraising, in general? If so, contact our helpful team at Bricks R Us today!