Buy a Brick Campaign
Alpha Kappa Psi
Central Michigan University
Thank you very much for taking an interest in the Zeta Xi Housing Corporation's Buy a Brick Campaign. The Housing Corporation has been working hard to make connections with alumni of the Zeta Xi Chapter of Alpha Kappa Psi.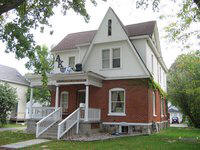 The AKPSI house at Central Michigan University is in need of facelift. With the help of generous and involved Alumni like you, we will return the house to its previous beauty.
All proceeds will be used exclusively towards renovating the property at 905 S. University. By purchasing a brick you will not only be donating to a good cause, but you will forever enshrine yourself within the Zeta Xi Chapter. The first round of bricks will be installed before Homecoming and will prominently display your generosity and involvement with the chapter.
This site will allow you to easily purchase donation bricks by using a credit card through a secure website. Brick prices are as follows:
| | | |
| --- | --- | --- |
| | 4" x 8" | $275 |
| | 8" x 8" | $375 |
| | 12" x 12" | $750 |
Please do not hesitate, as there are a limited number of bricks available in this year's installation. Purchase a brick today and create a lasting legacy within the Zeta Xi Chapter.
For more information about current house projects, please contact Housing Corporation President Ryan Naudi at ryan.naudi@gmail.com.
For more information about this fundraiser, please contact our Fundraising Director, Jason Schneider at schneid62@gmail.com.
Thank you for your generosity. We look forward to seeing you at one of our numerous Alumni/Student Member mixers throughout the year.