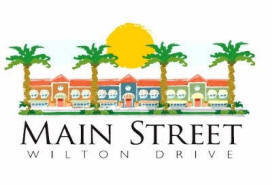 Wilton Manors Main Street's Children's Art Project is to create a mini plaza within the southern tip of Jaycee Park. Three Island Plaza was envisioned to display the past present and future of Wilton Manors in three mosaic tiles sculptures.

The design for the Postcard sculpture is to replicate the original 1925 poster used to sell land in Wilton Manors in a large scale format on a concrete block wall, seven feet long by five and a half feet high. The concrete block will be covered with the tile mosaic.
<![if !vml]>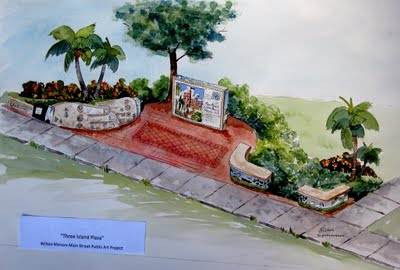 <![endif]>
The Benches are designed to be canvases for mosaics depicting animals, plants and sea life of the area representing our present. The lower riser or leg of the benches will be layered with the tile works.

The "Clasped Hands" is a retaining wall around an oasis of palm trees and native plantings. The front face is the canvas for tile mosaics of natural colored stones. This element of the design is the future, how we work together to build a community.

The final element of the plaza will be a brick pavers floor approx. 410 sq ft. connecting the three sculptures. The center square of the floor will be patterned with the words of our sponsors. Lighting will be added to up light the Postcard and Clasped Hands mosaic.

Won't you please consider helping us complete the Children's Art Project with your generous donation? Contact us at Wilton Manors Main Street and help us beautify OUR city!
4x8 Bricks are $100, and a limited number of 8x8 Bricks can be purchased for only $175.
Bricks will be inscribed with the message of your choice. Messages are limited to three lines, 18 characters each line for the 4x8 Bricks. 8x8 Bricks give you up to 6 lines of 18 characters for your message.
You may also purchase Donor Bricks as gift items which are available that include a felt backing with a stand.
Prices are $75 for a smaller replica of your 4x8 Brick and $75 for a smaller replica of your 8x8 Brick. These may be selected at the same time as your order.