The Medical Sciences Academy of West Boca Raton High School invites you to become a permanent fixture of the school by purchasing a commemorative brick for the new BULLRUN. The bricks will be installed in front of the entrance to building twelve (12) and extend to additional stairways around the courtyard.
We hope to have BULLRUN in place during fall 2010. Purchasing a BULLRUN brick is an easy way to leave a lasting family legacy on The West Boca Raton High School campus and at the same time help pay for medical equipment and help offset Senior costs including Prom, Grad Bash and Senior Week.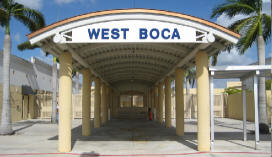 Engraved on your custom brick could be your family name, a student or alumni's name and year of graduating class, your business name, your organization name, or you could choose to engrave a brick in honor of someone special, a favorite teacher, or in a loved one's memory.
BULL STAIRWAY bricks are available in two sizes, and we will try to accommodate your engraving wishes as long as they fit into the boundaries of 18 characters per line. Please use the BULLWAY form on the back of this page to order your brick(s) and return it in the enclosed envelope with payment to West Boca Raton High School. The deadline for ordering is October 22th, 2010. Donations for BULLWAY bricks are tax-deductible. Questions? Please call the Medical Academy office at 561-672-2932.