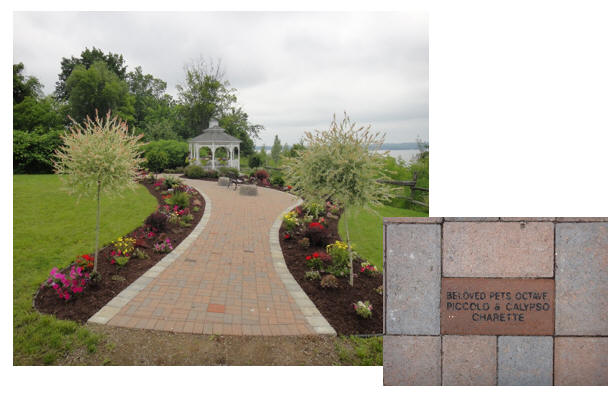 Nestled behind the Pembroke Animal Hospital, overlooking the Ottawa River is one of Pembroke's greatest hidden gems, the VRCS Memory Gardens and the Pathway of Life. The Memory Gardens area has been the scatter grounds for the cremated remains of deceased pets from the Ottawa Valley for over 20 years.
The Pathway of Life has now been enhanced with individualized engraved brick paving stones. The pathway captures the memories and happiness associated with special pets, family and friends. Engraved bricks with names of pets, people, businesses and messages will be added into the pathway. New bricks can be created in the memory of any life event, but are often used for those pets who are gone but not forgotten.
Funds raised are used to help maintain and improve the pathway, gazebo, gardens, and grounds. If sufficient funds are raised, plans have been made to put the land in trust ensuring that it remains undistributed and does not become developed commercially.