<![if !vml]>

<![endif]>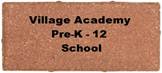 <![if !vml]>

<![endif]>
Be a permanent part of Village Academy. Purchase a commemorative brick for the new TIGER PROWL WALKWAY!!
Purchasing a TIGER PROWL BRICK is an easy way to leave a lasting family legacy on Village Academy's School campus and at the same time help the graduating class of 2012.
<![if !vml]>

<![endif]>
Each brick measures 4x8x12 and accommodates 3-4 lines of information and 18 characters per line. All engraving will use capital letters. Dedicating a brick cost $75.00 however, if you order by December 22, 2011, you pay only $35.00 per brick.
Please pick up an order form at Village Academy School
400 S.W. 12th Avenue
Delray Beach, Florida 33444
Don't delay, reserve your brick today!
FORMS MUST BE RECEIVED BY DECEMBER 22, 2011.If you have any questions, please call Mrs. Angela Burns at (561) 243-6100
Or e-mail at angela.burns@palmbeachschools.org.
Donations for TIGER PROWL WALKWAY bricks are tax-deductible.