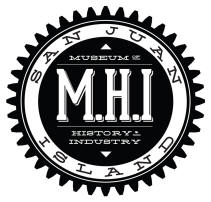 How do you connect the future to the past and the past to the present?
How do you explain to an inquiring visitor, a teenager, a grandchild, a friend from another generation – that San Juan Island has a rich industrial history? How do you tell the intriguing stories of industrious islanders, who fished, farmed, logged and quarried and processed limestone here?
The answer is the San Juan Island Museum of History and Industry (MHI), an interactive educational facility currently being developed at the San Juan Historical Museum. It is housed in a recently expanded late 19th century reproduction barn on the museum grounds. The MHI will interpret and exhibit the living history of four industries that shaped and sustained San Juan Island for generations: Fishing, Farming, Logging and Lime.
Making use of historical artifacts, images, multimedia and interactive displays, the exhibits will be installed in five separate sections, including a welcoming atrium and rolled out in phases with an estimated completion date of late 2016.
For a minimum contribution of $250 you can buy a brick and own a part of San Juan Island history and help pave the way to the MHI!
Please join us in this effort – help us to continue to create the San Juan Island Museum of History and Industry. Become a part of a legacy of information and education which will benefit current and future generations of San Juan Island residents and visitors.