Sam Houston High School-Bronco Football
"Preserve the Pride" Fieldhouse Buy-a Brick Campaign
Sam Houston Bronco Football is entering into a long awaited new era.
Come be a part of these exciting times here in "Bronco Nation"
With the addition of our brand new state of the art Athletic Field House along with Bronco Stadium upgrades currently underway, the opportunity is upon us all to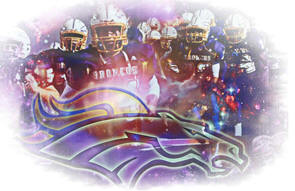 leave an everlasting display of pride and commitment to our school and program that will last a lifetime.
All current and former students, players, friends, families, parents, administrators and community leaders, are invited to help pave the way to successful athletic achievement. With the purchase of a personalized, engraved brick, your pride will be permanently set and prominently displayed in the new Field House Commons Area located north of the Field House facing Bronco Stadium. All parents or community members can honor your child or family member, recognize a graduation, remember a loved one, show support of an organization, or advertise your business with a purchase of a "Preserve the Pride" brick. Your purchase will not only become a permanent part of Sam Houston High School but will help to support our student athletes for years to come.
There will be two brick sizes available for your consideration.
You can order a 4" x 8" brick with up to three lines of engraving and up to 21 characters per line for only $50.00.
If you prefer, a larger 8" x 8" brick with up to six lines of engraving and up to 21 characters per line, for only $125.00.
For any brick ordered, you may order an optional donor brick 4" x 8" for $25.00 or an 8" x 8" for $75.00, which are full sized replicas of the installed brick. These replicas are felt backed with a stand for display in your home or office.
Sam Houston High School is a registered 501(c)(3) organization under IRS guidelines and contributions may be tax deductible. Please consult your tax advisor for more details.
Please see the order form below for ordering information:
You may complete your order by completing the order form below and submitting your order on-line, check or money orders with the attached order form to:
Sam Houston High School-Paver Fund
c/o Coach Vaughn Eggleston
880 Sam Houston Parkway
Lake Charles, LA 70611
For more additional information regarding the brick design or placement, please contact:
Coach Vaughn Eggleston -Head Coach @ 337-217-4480 x5129 & x5130
Click here to download Printable Order Forms
Thank you for your continued support of Sam Houston High School