About Riverside Dog Park
<![if !vml]>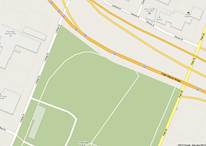 <![endif]>
The John Gorrie Dog Park is a two-acre off-leash dog park on the northwest corner of Riverside Park, adjacent to College Street. Approximately one-third of the property, under the Interstate 95 overpass, has been repurposed from a Florida Department of Transportation storage lot and added to the existing lands of Riverside Park.
Through an in-kind donation from the Haskell Company, and with the support of Riverside Avondale Preservation, a small group of community members developed a draft plan for the park with a landscape architect. After many years of planning and through the support of the City of Jacksonville and numerous private sponsors such as the John Gorrie Investment Group, the John Gorrie Dog Park officially opened on September 17, 2016.
The park has a 1.25 acre large/active-breed area and a quarter-acre small/passive-breed area in the park. The large dog area features decomposed granite ground cover, grassed area, and plenty of shade under the bridge. The small-breed area features significant old-growth tree coverage and bench seating.
Ample on-street parking is available on College Street. The park is a City of Jacksonville park, subject to City park rules and regulations, and there is no fee for the park.
Bricks purchased will continue to help support the park and will be installed on a quarterly basis. Visit the Dog Park Facebook page for updates and information: https://www.facebook.com/JohnGorrieDogPark.
Thank you for helping to support the John Gorrie Dog Park at Riverside Park!

Click here to see a site map.
For more information, to donate or to get involved,
please e-mail info@riversideavondale.org.