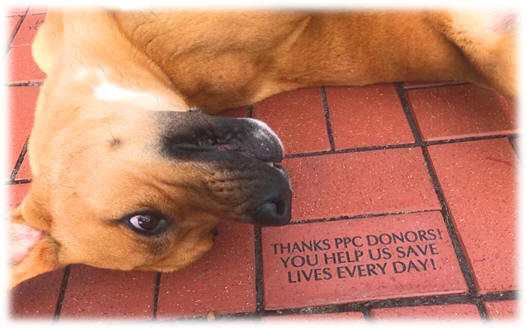 PAVING THE WAY for PET PLACEMENT CENTER
Pet Placement Center is Chattanooga's oldest no-kill animal shelter that strives to find responsible homes for those pets whose owners can no longer keep them and those we pull from overcrowded facilities. All of our animals stay with us until their forever home can be found. We receive no federal, state or local funding and are fortunate to have generous individuals throughout our community.
Pet Placement Center is grateful for those that have purchased remembrance brick making our Meet & Greet patio area a reality. The area is being used to introduce adopters to their new pet and a space to hold on-site events bringing awareness to our animals and our mission. A custom engraved brick is a unique and lasting way to show someone or some "Paw" the special place they hold in your heart. Our bricks make excellent anniversary, graduation, memorial and honorary gifts and provide a lasting memory
The price of a 4x8 brick is $50 and the price of an 8x8 brick is $125.
You can now choose from a variety of symbols for only $5 more per brick.
All symbols will be placed top and center unless specified differently in the comments section.
Symbols can be placed within the text of your message. Only one symbol per brick.
An additional donor brick can be purchased for your home: $25 for a 4x8 brick and $50 for an 8x8 brick which is half the thickness of a regular brick and includes felt on the back.
You can also purchase souvenir bricks which are $20 for a 1.5x3 and $40 for a 3x3 size.
Thank you for your continued support!