It was likely your mother who first reminded you of the importance of saying please and thank you. When it comes to fundraising, keep your mom's advice in mind, especially when it comes to how you thank your donors.
Many nonprofits go all out when it comes to planning successful fundraising events and inviting plenty of people. Unfortunately, properly thanking donors and following up with them is often overlooked or neglected. When this happens, nonprofits are missing out on the opportunity to make another great impression.
Here at Bricks R Us, a brick engraving company, we've been helping our clients with fundraising projects for more than 25 years. We're happy to provide tips and advice related to fundraisers for our clients and readers of this blog.
As you plan future fundraisers, keep these tips in mind for how to properly thank your donors.
Thank-You Letters
It may seem old-fashioned, but you really can't go wrong with writing a thank-you letter to individual donors. In this day of emails, texts and instant messaging, an old-school, hand-written thank-you note on fine stationery with a stamp may help set you apart from the pack. It will certainly make you – and your organization – memorable. And that's a very good thing. Enlist your board members to assist in this effort. Be sure to describe what their donations are being used for.
Thank-You Gifts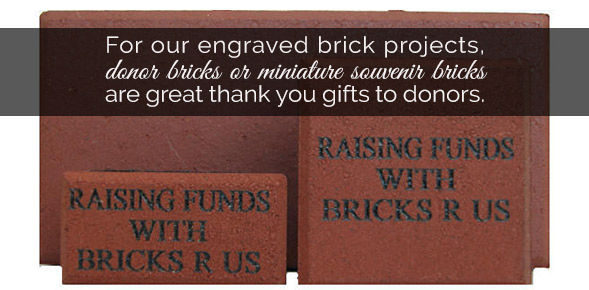 Some organizations like to send thank-you gifts after a fundraising event or they give them out as donors leave the event. It can be a keepsake item or something related to your cause that can serve as a nice reminder of the occasion. For our engraved brick projects, we offer donor bricks or the miniature souvenir bricks, which are great thank you gifts to donors, perfect for display in their offices or homes.
Donor Recognition
Another way to thank your donors is through a recognition list. This can be used in a variety of places, including an annual program listing, your website, inside your building or office or a newspaper or magazine advertisement. It's a way to publicly acknowledge their donations.
Donor Events
Donor events, such as an annual donor reception, can be a great way to acknowledge your significant donors. It could be a breakfast, a luncheon or even a cocktail hour event. Here you publicly acknowledge your donors and let them know how their donations are being used and the impact they are making.
What do you think about these tips for thanking your donors? Comment below if you have more ideas. And if you're interested in starting a brick fundraising project, contact us today.