Volunteering is important to the communities we live in, as well as to the organizations and nonprofits that each of us work with and support.
As a brick engraving company, we at Bricks R Us work with many organizations, schools, churches and nonprofits to help them raise funds for various needs and projects.  Many depend on volunteers to help them accomplish their mission and goals.
Recognizing the value of volunteer service and encouraging all to volunteer is what the upcoming MLK Day of Service is all about.
Formerly known as MLK Day in honor of slain civil rights leader Dr. Martin Luther King Jr., Congress designated the federal holiday a national day of service in 1994. It is the only federal holiday observed as a national day of service, more of a "day on, not a day off."
"The MLK Day of Service empowers individuals, strengthens communities, bridges barriers, addresses social problems, and moves us closer to Dr. King's vision of a 'Beloved Community'," according to the Corporation for National & Community Service, which was charged with leading this effort.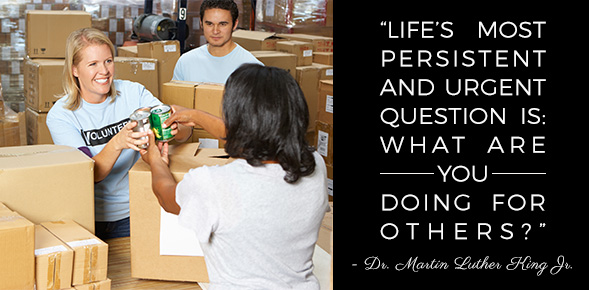 It was King who said, "Life's most persistent and urgent question is: What are you doing for others?" With that in mind here are some ideas for how you and your organization can get involved in this national effort, whether it's this month or anytime.
Schedule a volunteer project for your organization. Invite donors and others to participate. Register this project at gov so others in your community can get involved.
Take part in an existing community project. You and those involved in your organization can do something for your community. Look in your local newspaper or search gov for projects near you.
Honor your volunteers. Recognize your volunteers on your website, in your newsletter and schedule a special breakfast or lunch for them. Or spend the morning creating special baskets for volunteers who donated the most hours in 2015 and surprise them with a delivery.
Teach young people workforce skills. Depending on your organization and the skills of your staff, schedule or take part in a ServiceWorks bootcamp where you help teach essential workplace skills to teens and young adults. Depending on your specialty and skills, this could mean resume building, communication skills, project management or the like. It's a great way to give back by helping young adults prepare for careers.
What do you think about these ideas? Do you have others to suggest? Comment below. We'd love to hear from you.
Want to share this blog online? We've got the tweet ready for you!
Here are some tips on how you can volunteer in your community for this #MLKDay of service! https://t.co/Kl9oe1J8w2 pic.twitter.com/qrX84KHJqT

— Bricks R Us (@bricksrus) January 18, 2016