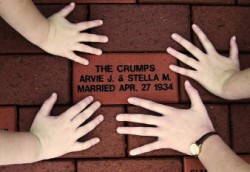 After more than 30 years in the brick engraving business, we are proud to have helped many satisfied customers organize successful engraved brick fundraisers, as well as fundraisers featuring tiles and benches. The team at Bricks R Us is all about continuous improvement, so we always reach out to customers after their purchase to see how we did. As a result of this follow-up process, many customers have kindly provided Bricks R Us testimonials about their experience.
Customer service is one of the things that makes us stand out among other brick companies. We are not here to only sell you engraved bricks. We provide full support to our customers with services like our 24-hour policy, our getting started guide, our iPhone/iPad and Android App, our lifetime guarantee, our secure Donor Sites, and more. The team at Bricks R Us is here to take care of you. Read on for Bricks R Us testimonials!
Are you ready to organize a brick fundraiser? Contact us today to get started. We assure you we will walk you through every step of the way. You are in good hands!
We're Proud of Our Testimonials!
"We had 21,000 bricks engraved and shipped to us and Bricks R Us did an outstanding job. We have found only two chipped bricks that need replacing. That is almost unbelievable."
Bobby Dowling
Louisiana Tech University
Director of Recreation
"Outstanding service! Helpful...efficient...Tiles are beautiful...on-line ordering a breeze for a 75 year-old ...delivery on time as promised...no broken or cracked tiles...from the East Coast to the West Coast..felt you were just down the street....Thank you..Thank you....a great fundraiser."
Dona Lynn Clabby
Hoover High School Foundation
Lemon Grove, California
"This was one of the easiest fundraisers we have ever done! The cost of your bricks was very reasonable and the ease of placing/tracking orders was good. We will definitely use your company again for our brick fundraiser. "
Mary-Ellen Samuelsen
Mountain View High School PTSO
Stafford, Virginia
"As a result of the local company we used stopping the process of engraving bricks, we were forced to look else where. As we searched local and on the internet, we came across this company at which time we started the dialogue of what we currently have, need and things were quickly finalized to meet our needs. Our order for 200+ bricks was completed and shipped without any damage, as the process was without any issues. I would highly recommend anyone looking forward to purchase bricks to start the process with you, great job."
Jon Barrett
Cicero Fire Station #1
Cicero, New York
"This was actually not a full fundraiser. We have used any profits to enhance our prayer garden which is where the bricks are installed. We are very pleased with your company and would highly recommend you. We've had several campaigns over the years. Thank you."
Kathleen Zaremski
St. Anselm Church
Philadelphia, PA
"This was the easiest ordering process I've ever worked with. From set up to questions to orders to delivery. Every step of the way it was great. I'm glad I found you and people that ordered bricks are so thrilled that their family is being honored this way. Thank You. More orders to do!"
St. Agnes KOC
St. Agnes Knights of Columbus #4449
Catonsville, MD
"Everyone at Bricks R Us was extremely professional and knowledgeable. they kept in touch with me and did follow up. I am extremely satisfied with them. The Bricks are beautiful!"
Elaine Brandt
Lacey United Methodist Church
Forked River, NJ
"I have worked with Brick's R Us for over fifteen years now and I have always been impressed with not only the product, but the efficient, helpful and friendly service that goes along with it. It has made our efforts as simple and efficient project as possible. I would highly recommend them to anyone looking to do a brick project. "
Jack Walsh
City of Derby
Derby, CT
"Bricks were used for a sidewalk in our community's Veteran Park. Approximately 2,000 bricks are in the walk that recognize and honor of community that have served in every war/conflict since the Revolutionary War to those current serving. Bricks have been consistent in quality."
James Stickney
American Legion Post #514
Brasher Falls, NY
"We have a Veterans Memorial that has had ongoing brisk donations for 10+ years. Over the years I have dealt with the people from all the different departments at BRUS. They all have been courteous in addressing my concerns. A few years ago I tried a different company, incase we needed a backup. The sample that they sent was no where near the quality of Bricks R Us. "
Art Falco
Bridgeport, CT
"We have been using Bricks are Us for about a decade. They have always done a great job. On my last order, I made a mistake (misspelled something). The event was only a few days a way. They rushed the brick to me with no extra costs. Very appreciative! (we live several states away)."
H. Miller
Middle Tennessee State University
Murfreesboro, TN
"Excellent product, Excellent Customer Service and Delivery, you will not be disappointed with the company. They are on Target ALL THE TIME!"
Jo Ann Redmond
The Archdiocese for the Military Services, USA
Washington, DC
"I have always gotten help when I needed it. Service is fast and efficient. Everyone I have talked has been knowledgeable and helpful. "
Daniel C Holland
Lake Lure Flowering Bridge
Chimney Rock, NC
"Our organization has been using Bricks R Us for most 10 years and very pleased. Company is easy to contact and very accommodating to our needs. Professional, accurate and knowledgeable customer service. I highly recommend this company to anyone pursuing a fundraising campaign. "
Sandy Parks
Exeter High School Alumni Association
Exeter, New Hampshire
"I am extremely impressed with the level of professionalism and customer service Bricks R Us provided throughout the entire sales process. I would highly recommend this company to anyone looking for engraved bricks. My experience was exceptional!"
Rachael Sherman
Pawtuxet Baptist Church
Cranston, Rhode Island
"We had a grand opening for our new Fraternity and as usual, people waited to the last minute to order their bricks. Bricks R Us was more than helpful in making sure our order was completed and shipped before our deadline. It was not a large order but they treated us like we were their number one client. Thanks!!"
Scott Mintz
Zeta Beta Tau Fraternity
Kingston, Rhode Island
"My organization has been working with Bricks R Us for 2 years, creating a memorial walkway at our Senior Center, in our Remembrance Garden. This has been a wonderful venture to get funding to create the garden for all Westporters to enjoy. I have been very pleased with Bricks R Us; everyone has been very helpful in every way. I have recommended them to other non-profit organizations."
Susan Olivera
Westport Council On Aging
Westport, Massachusetts
"From start to finish of the project all my questions were answered, expectations met, and promises kept. Nothing more one could ever ask in a transaction."
Danny Orr
Rocky Ripple Veterans Association
Indianapolis, Indiana
"Bricks R Us makes it so easy. My customer service representative was wonderful!"
Pat Irwin
Friends of Caroline Hospice
Port Royal, South Carolina
"Having gone through some personnel changes recently, ordering the bricks for our volunteer recognition had fallen through the cracks. I called less than a week before we needed them for the ceremony. They knew exactly which product, type and style we had ordered before. We were promised they would be here in time for the ceremony and they were! Thank you for rescuing us!"
Nancy Scheffler
Camp Fire USA First Texas Council
Fort Worth, Texas
"We are exceptionally pleased with the quality and integrity of Bricks R Us and we will continue to use their product for the duration of our fundraising."
Cheryl Zuckschwerdt-Ellsbury
Bartholomew County Humane Society
Columbus, Indiana
"The Bricks R Us people have been very helpful to me. No question seems insignificant to them, and as a new person in charge of brick fundraising I really asked a lot. I am glad we found each other."
Bennie Furlong
Beaches Area Historical Society
Jacksonville Beach, Florida
"Bricks R Us was very cooperative and helpful. The service was outstanding and the product was better than I ever imagined. I will do business with this company again as well as encourage others to do likewise."
Buddy Swain
Hatteras Methodist Church
Hatteras, North Carolina
"The 8X8's w/ business logos are a work of art! We are very pleased and energized regarding the fundraiser. Now other members of the association who were on the fence are catching the vision of a beautiful park w/ water features that surrounds the walkways and patios. In addition, the Veteran's Memorial Vista overlooking the lake is a subject of excitement too. We hope soon to place another order that includes both business donors and those personal messages placed by loving friends and neighbors here at Heritage Ranch, Paso Robles, California. Thanks again to Mary in the engraving department and her team."
John Weigert
Windsor Locks Little League
Windsor Locks, Connecticut
"Bricks R Us provided excellent service to our school. The ordering was so easy, and everything arrived on time. There were no mistakes either. Customer service was excellent. We are very satisfied. The bricks are in the ground now and look beautiful! Thanks for a job well done."
Marilia Oliver
Slackwood School
Lawrenceville, New Jersey
"I was surprised and quite pleased with all aspects of ordering engraved bricks for our church. The on-line ordering is very flexible and allows for sporadic entries and changes. The customer service was excellent. Thank you."
Gay Garlid
Followship of Boca Raton
Boca Raton, Florida
"The way of ordering is a breeze! It's quick, easy to understand and being able to order multiple style and sized bricks or tiles is great!"
Murrey Goldthwaite
Kent County SPCA
Camden, Delaware
"The staff at Bricks R Us has been wonderful. Due to problems on my end, I was unable to get my order to them in time to get the bricks delivered for our event. They made sure I received the bricks for our "VIPs" in a hurry, so that we could present them. I look forward to working with them again."
Carol Archer
George Bannerman Dealey School
Dallas, Texas
"This is one of the best companies we have done business with."
Annette Ciavarro
Klingberg Family Center
New Britain, Connecticut
"The service, support and responsiveness could not be better if it were being done eyeball to eyeball. Thank you for your help and professionalism."
Tony Radice
The Hamilton Township Patriotic Committee
Hamilton Township, New Jersey
"Excellent service and delivery arrived exactly when promised ..thanks."
Mindy Horowitz
John L. Miller Great Neck North High School
Great Neck, New York
"Bricks R Us is a fantastic group of people that was always there to meet our needs. Even during the busiest season it seemed that they were always putting us first."
Jake Sgambati
Building with Books
Bloomfield Hills, Michigan
"Your customer service is awesome. You helped me through the entire process... setting our price, designing the brochure, and even made sure our first shipment arrived in time for our banquet. Everyone thinks I did a great job as chairman of the fundraising committee... please don't tell them that it was easy because you had already done all the work! Thank you Bricks R Us!!"
Debbie Farley
St. Joseph School
Killeen, Texas
"Bricks R Us is one of the most organized companies I have ever worked with. The people were knowledgeable and friendly. I was informed as to the status of my order, and when the order came, everything was perfect. Our school is very thankful we choose this company to supply the bricks for our fundraiser."
Lois Wray
Hannalei Foundation For Technology
Vista, California
"The bricks are mounted on an inside wall at our center. They are a source of pride as well as comfort to the members in addition to being a great method of fundraising. Bricks R Us has been a helpful partner in this on-going venture."
Evelyn Hartman
The Modern Maturity Center
Dover, Delaware
"This was our second order and we needed a memorial brick really quickly for a service that was being planned - and everyone at Bricks R Us was more than helpful in making sure the order, small as it was, was handled efficiently and delivered in time. I can't say enough about how hard they all worked ensuring the first order was exactly the color and size that would work for us -- it took three samples before we were ready to complete our order and I never felt we were rushed or pushed to make the decisions. THANK YOU ALL!!!"
Bret Adams
Texas State University
San Marcos, Texas
"Your company is just phenomenal. Everyone was extremely helpful and knowledgeable. The whole process went so smoothly and you were so patient with us throughout the almost two year span it took us to get all of our orders in. Thank you for everything! We will definitely recommend your company to others!"
Merri McPherson
NBT Pool/Park
Charleston, South Carolina
"Thank you for making me look so good! Our project was very well received and all of our members are pleased."
Cindy Hayworth
Longboat Key Public Tennis Center
Longboat Key, Florida
"The contact we had at Bricks R Us was very accommodating and helpful at all times. It was helpful to have one contact person and for that person to be so personable. The bricks arrived as promised and made a wonderful display providing us with a great way to raise funds."
Deanna Hormel
The Ladies Club of Fripp Island
St. Helena, South Carolina
"Our brick program recognizing corporate, family and memorial donations helped put our fundraising over the top. We built our playground after only one year of fundraising and the kids were ecstatic! With all the budget cuts these days, we feel very lucky to be able to provide our children with such a quality play place. Thanks Brick R Us for being a big part of our successful team! From all of us at Freedom 7 Elementary School of International Studies."
Debra Concepcion
Freedom 7 Elementary
Cocoa Beach, Florida
"The memorial bricks were used as a fundraiser for our church, we expected to do well, but we exceeded our expectations. The service we received was great. We were able to handle everything by e-mail and our customer service representative has been patient with us and our many phones calls that were made. The fundraiser went so well that we have decided to continue it. We truly thank Bricks R Us for everything."
Henrine Heidelberg
St. Elmo Baptist Church
Laurel, Mississippi
"Bricks R Us did a fantastic job at keeping me informed. I was very impressed at how they utilize email to keep me updated from sending multiple proofs, to sending detailed shipping information, to after-sale follow-up. I couldn't of chosen a better company to deal with. And I will be doing business with them in the future."
Ryan Naudi
Mt. Pleasant, Michigan
"Bricks R Us is the epitome of customer service. On more than one occasion they have helped us out in the nick of time - delivering quality products time and time again. They help us meet deadlines with ease and comfort. Thank you for always being there when we need you! Our Memory Walk is beautiful thanks to you."
Doreen Matters
Duke Health Community Care
Durham, North Carolina
"Phase One of our field bleacher project is complete and it looks great! Thanks again for your prompt and professional service. This was a great fundraiser."
Susan Sendelsky
JP Stevens High School Softball
Edison, New Jersey
"I do need to tell you that (as I notice out the window from my office) everyone who comes into our school stops to read and comment on our pavers. We have begun filling our second rectangle and have already raised over $10,000! It's a great ongoing fundraiser. Bricks R Us is so easy to work with, and I love the new, convenient, online ordering. Brick pavers are a great on-going fundraiser for us. Brick R Us makes it very easy. In the beginning, when I had questions, communication with them was very easy (and continues to be). I wish everyone I dealt with was this easy . . . my job would be a lot simpler."
Linda Peeler
The Bedford School
Fairburn, Georgia
"This is an awesome way to express feelings for loved ones who have passed and acknowledged those who have made an impact on our lives. Bricks 'R Us provides a product that will go on forever."
Janis Lowe
Brockton - MPDC
Brockton, Massachusetts
"Bricks R Us made this easy. We'll make this an ongoing fundraiser. This is one of the easiest ways to raise money with the fewest volunteer hours required."
Mike Moser
Madison County Education Foundation
Marshall, North Carolina
"It has been a pleasure working with Terry at Bricks R Us. He guided me through the entire process and made it easy. Our bricks are beautiful. I can't wait for our project to be complete!"
Beth Judge
Serrania Avenue Elementary
Woodland Hills, California
"I indeed received personalized service, as they were very thorough in making sure my order was completed exactly as ordered. Their response was also immediate when several bricks were damaged and replacements arrived promptly."
Ann Thorn
Canterbury School
Fort Myers, Florida
"I have been working with Bricks R Us for approximately 2 years now as my church establishes a "Walk of Faith" utilizing their engraved bricks. It has been an absolute pleasure working with Bricks R Us from the start of project, as there have only been minor glitches on one or two occasions. When a problem has occurred, they accepted ownership of the problem and resolution to my complete satisfaction. If your organization is seeking to do a fundraiser or just complete a "special" project I would recommend Bricks R Us as your partner."
Wayne Schleutker
St. Paul United Church of Christ
Cincinnati, Ohio
"We have been working with Bricks R Us for over four years and have been thrilled with the support and product."
Robin deStefano
Nahant Preservation Trust/Valley Road School
Nahant, Massachusetts
"The service was great, ordering process easy, shipment received quickly and they look fabulous. An outstanding fundraiser. I highly recommend Bricks R Us to anyone needing an easy fundraiser."
Art Henninger
Perdido Bay United Methodist Church
Pensacola, Florida
"The people at Bricks R Us were very helpful and informative with my many questions. Everything was completed on time and delivered well. I look forward to working with Bricks R Us again."
Mark Klaisner
Todd Hall
Lincolnwood, Illinois
"I was very pleased with the fast service and professional work that was done. Bricks R Us is head and shoulders above the competition. I would highly recommend them to anyone."
Tom Sawyer
Tom Sawyer Enterprises
Key West, Florida
"We are a small senior community with a small memory garden. We have been searching for a company that can provide us bricks at a reasonable price as we need them. Brick R Us has provided with this service. They provide professional service at a great price. We are very excited to have found them. They did an excellent job on the bricks we ordered."
Loretta Williamson
Community Memory Garden
San Marcos, Texas
"Bricks R Us was fantastic to deal with! We used them to provide engraved bricks for a new elementary school playground - parents and teachers have remarked how nice the bricks look. Also, we had a last minute addition to our order and our BRU contact, Kevin Vilchez, went out of his way to help expedite the ordering/shipping process. I'm very satisfied and would definitely recommend Bricks R Us! "
Rob Hutchinson
Plymouth River School
Marshfield, MA
"As time goes by, I am more and more impressed by the level of outstanding service I've received from Bricks R Us! On Saturday I received our latest shipment for the LAKESHORE HUMANE SOCIETY. I had placed the original two orders and then kept receiving more orders for bricks. I wanted to get ALL the orders in so the bricks could be installed at the same time and before the weather turned colder. Each time I placed a new order and requested they be shipped on 9/24 with my original two orders, my requests were honored! I was thrilled that customers didn't have to wait until next spring!! Also, for the very first time, a custom logo was ordered and what a PERFECT job it turned out to be! Within the multiple orders I had some special requests for the engravings on a few of the bricks...again, absolutely perfect. Our bricks are usually memorials for people and pets-very close to the hearts of those who have suffered a loved one's loss. The bricks are very important to these customers and your company does an outstanding job of making each tribute so very special. Thanks to all of the folks who combine to make these bricks so special."
Lynn LaMattina
Lakeshore Humane Society
Fredonia, New York
"We used the bricks to surround an antique water fountain in the center of our village. In spite of the fact that our village is very small (1,600) we were able to raise $72,000."
David Monks
Whitman's Feed Store
North Bennington, Vermont
"The bricks we receive from Bricks R Us are a great addition to our public amphitheater. Bricks R Us has allowed us to not only beautify our amphitheater, but to plainly advertise that anyone can become a sponsor of our organization in a very visible way. To date we have installed 254 bricks in our amphitheater as part of an on-going project. This has included several special order large bricks with custom logos, as well as an array set. Our donors have been more than pleased with their inscribed bricks. Upon ordering, Bricks R Us ships us the bricks in a timely fashion, the writing on the bricks is ALWAYS accurate and year-in and year-out the bricks themselves and the black within the etchings stand up to the test of foot traffic and weather. I highly recommend Bricks R Us. Anyone wanting to beautify their sidewalk or amphitheater will be totally happy with the results, and so will your sponsors! "
Jeffrey S. Meshach
World Bird Sanctuary
"You made the brick ordering process so easy and smooth. I was always able to contact someone at the company and get any questions answered quickly. The delivery was amazing and the product is wonderful. Can't wait to place my next order next week."
Heather Rees
Walton High School Foundation
Marietta, Georgia