Looking to ramp things up with your engraved brick fundraiser? Consider adding the option of an engraved memorial bench to your project.
Here at Bricks R Us, an engraved brick company, we've been helping customers with fundraising projects for more than 27 years. We're always glad to provide fundraising tips and advice to our clients and regular readers of this blog.
We have a variety of engraved memorial benches available that differ in style, size, weight and height. We're sure to have one that perfectly fits the needs of your project. In addition to the engraved name or message, you can also include a logo or symbol to make it even more personal.
Here are three reasons to add an engraved memorial bench to your project.
Serves as a Great Memorial
As its name implies, an engraved memorial bench is a great way to memorialize a special person or event associated with your fundraiser, your organization or cause. You can dedicate a bench that will be a great part of your overall engraved brick project.
Adds Function and Beauty To Your Project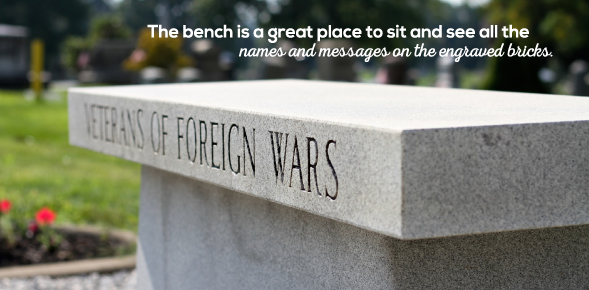 If your engraved brick courtyard or path will have a lot of foot traffic, an engraved memorial bench is a perfect addition as it will give people a place to sit. Not only is it functional in this way, but it can also add to the beauty of your project. It makes for a nice park-like setting. The bench is a great place to sit and see all the names and messages on the engraved bricks.
Creates Greater Opportunity for Fundraising
Oh sure, everyone will want to buy an engraved brick and participate in your project. That's just how popular engraved brick projects are. By adding engraved memorial bench options to your project, you can offer opportunities for those who want to contribute at a higher level. This can serve as a top-tier level of fundraising and can significantly increase the amount raised. You can limit the number of benches available for your project, making this even more of an exclusive offer.
What do you think about these ideas for using an engraved memorial bench for your fundraising project? If you'd like to get started on an engraved brick fundraiser project of your own, contact us today. We're ready to help you every step of the way!