Every brick has a story to tell.
This is true of practically all the engraved bricks we create for clients for their fundraising projects. But it's especially true for any veterans projects that we do.
When you see the name of a sergeant from the Marines or a captain from the Army on a brick, along with their years of military service, you know there's a story there. That brick represents someone who served our country. That brick represents their story.
That's why engraved brick projects make the perfect fundraiser for veterans organizations. Not only will the project serve as a great fundraiser, but it will also be a lasting tribute and memorial to the men and women whose names are represented on the bricks.
As a brick engraving company, we at Bricks R Us have been helping veterans groups, schools, churches, hospitals, museums and many others with engraved brick fundraising projects for more than 27 years. We are always happy to assist our clients with their fundraising efforts and provide all the necessary tools to make them successful.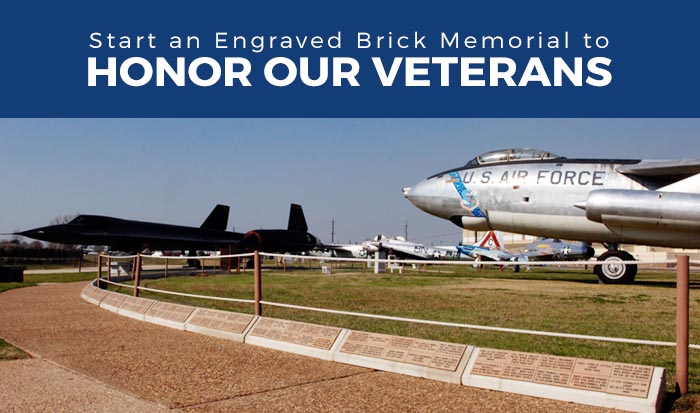 Sure we're months away from Veterans Day, but May is a great time to launch such a project. With Armed Forces Day on May 21 and Memorial Day on May 30, it's the perfect opportunity to begin a project that would honor veterans in your community.
If you're considering an engraved brick project to honor veterans, consider the following ideas:
Memorial Wall: Consider an engraved brick memorial wall somewhere in your community. It could be at a downtown square or plaza or at a city park. This can serve as a great public tribute to our veterans.
Courtyard or Terrace: This idea would be perfect for a community veterans park. The courtyard could be divided into the various branches of military service with each symbol or military seal featured prominently. This would serve as a great drawing point for members of the community who want to honor their loved ones.
Walkway: This could be used at any public park or facility or one that is owned by a veterans group organization. The walkway could be a mix of engraved bricks, along with the images of military symbols or military seals.
What do you think of these ideas for honoring veterans with engraved brick projects? If you're ready to get started with your own project, contact us today.