Looking for a holiday gift for the person who has everything? Adorn your engraved brick with a favorite quote, an important date or other information can make for an unforgettable gift.
Here at Bricks R Us, a brick engraving company, we can help you with all of your gift-giving needs. Whether you're looking for a full-sized brick or a souvenir brick, we think a personalized engraved brick is a truly memorable gift. With our extensive choice of logos and symbols, you can get very creative in your gift giving.
While most of our clients are used to ordering hundreds of engraved bricks for their fundraising projects, we also sell single bricks that ship within four days of ordering. And we can add felt to the back of the brick at no additional charge, making it perfect for inside the home.
Here are four ideas for giving engraved bricks as holiday gifts.
Important Dates
What better way to commemorate a special date than with an engraved brick? Consider a gift for the newlyweds with their names and date engraved on it and perhaps a special song from their wedding. They are sure to cherish it forever. For the sports fan, consider an engraved brick with the team name and an important date in team history, like a championship victory. Check out our symbols page to add mascots or sports emblems, too.
Memorable Quote
Everyone loves a great quote. Quotes as decorative art have never been more trendy. Does the gift recipient have a favorite author or movie? Consider an appropriate quote from one of those. Or Google inspirational quotes and click on images to find a quote you think he or she would like.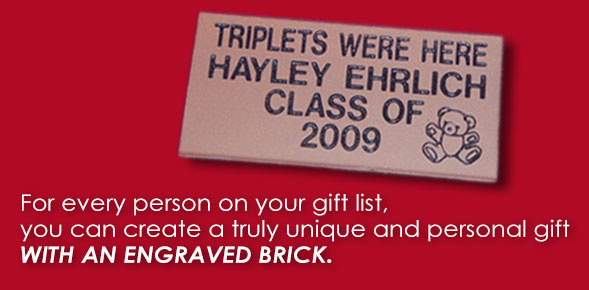 Special Occasion
Know someone celebrating a big anniversary date in the coming year? Commemorate the date and occasion with an engraved brick. Did your friends welcome a newborn this year? Imagine their surprise to see an engraved brick with the baby's name, weight, height and birth date. Adopt a new puppy or kitten this year? Welcome the pet to the family with his or her name, adoption date and favorite pet quote. Engraved bricks make great gifts for special occasions like these and others.
Housewarming Gift
Buying your first home is a momentous occasion in anyone's life. Commemorate this special time with an engraved brick featuring the homeowner's new address and home-closing date. This would make a great housewarming gift. You could also add a favorite inspiration quote, house poem or house blessing. Or go simple with just the numeric address. This makes a great statement piece.
Get Creative
It's not all about words and dates on bricks. With our logos and symbols, you can get very creative using a variety of images, from holiday and religious images, to military, sports and animal emblems, among others. There is no shortage of symbols or logos to choose from in creating an engraved brick.
For every person on your gift list, you can create a truly unique and personal gift with an engraved brick. Get started with our Brick Creator or go here to order a single brick. What other ideas do you have? Comment below. We'd love to hear from you.
Want to share this post online? We've got the tweet ready for you!
Looking for a unique #holiday gift? Try an #engravedbrick! Here are why they make for the perfect gift! https://t.co/V3uHk2fJhw

— Bricks R Us (@bricksrus) December 19, 2015