Customer service is an important aspect of doing business with Bricks R Us. If you're already fundraising with us, you've probably noticed this about our team. We don't want our clients to worry about the logistics of ordering bricks and having them shipped – that's our job. We want our clients to focus solely on raising money for their mission. This is why we make fundraising with bricks easy by provide a number of fundraising and logistical tools free of charge, including the brick app for your smartphone.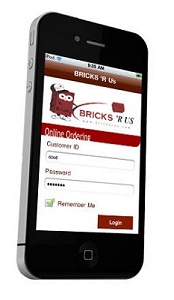 The Bricks R Us brick app is extremely useful for organizers, fundraising staff, volunteers and even single-use donors. Here's how it works:
Download the app for free from iTunes (for iPhone or iPad) or Google Play (for Android). The app allows you to access your organization's information stored on the Bricks R Us secure server. There's no limit to the number of individuals from your organization who can download and use the smartphone app.
You can enter a complete brick order directly from your phone — Text for the brick inscription, include the brick donor's contact information and highlight brick donation amount.
No matter the hour of the day, you can access your organization's data on the Bricks R Us secure server. This include reports, invoices, proofs and donor information reports.
You may also use the app to follow up by:

Sending thank you letters to donors
Picking your shipping dates
Viewing the status of an order
Tracking shipments
Checking up on past or pending orders
Looking up donor payment status

Pay for your organization's order via credit card or e-check
Besides placing orders for the bricks that are "sold" to your generous supporters, the brick app will also help you manage other brick orders, like those for donor recognition or organization awards. Next time you need to place an order for an engraved bench honoring a major donor, you can do so from our brick app.If it's appropriate to your organization, why not order a brick for your newest Volunteer of the Year Award recipient as well?
If you have questions about the brick app, or about brick fundraisers in general, please contact us today!
Image Source: Bricks R Us