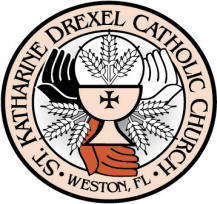 COMMEMORATIVE COURTYARD
The journey to build Saint Katharine Drexel's house of worship has been paved with the remarkable efforts of many through their time, talent, and treasure.

In order to commemorate this journey, we welcome you to participate by purchasing an engraved brick paver to be permanently placed in the SKD Courtyard.

Engraved brick pavers are an excellent way to honor and memorialize family, friends, and events.
You can purchase a paver for yourself, your family, and/or a friend - living or deceased.

Brick pavers can also be given as gifts for those who receive Holy Sacraments through SKD Church. For example, commemorating a Baptism, First Communion, Marriage, etcetera.

The SKD Courtyard will be an area located just east of the worship facility.

The money raised through this project will be used toward the Fixtures, Furnishings and Equipment (FFE) expenses of our new building. These FFE expenses are in addition to the construction costs.

Cost of bricks: 4 x 8 brick $100 or 8 x 8 brick $250
Engraving will be with all CAPITAL LETTERS