THE CELBRATION GARDEN
(scroll down to place your order)
We at Brecksville United Methodist Church have a great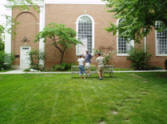 opportunity to beautify our garden, celebrate loved ones and raise funds for the church's operating budget when we install The Celebration Garden this fall. The Celebration Garden will consist of a beautiful brick patio located on the northeast side of the church in the open grassy area outside of the main entrance, across from Brecksville's town square. The 14' x 14' octagon patio will be constructed

from 8" x 8" and 4" x 8" engraved brick pavers with a sandstone border. The color of the brick pavers was specifically selected to match the exterior façade of the church. The shape of the patio will compliment the gazebo and patio across the street in town square. Park benches will surround the patio making the Celebration Garden a peaceful place of contemplation and special and personal time to be with God.
Let's build the patio for everyone to enjoy! The installation of the Celebration Garden will take place this fall with a dedication planned on All Saint's Day, November 2, 2008.
THE BRICKS
To accomplish this beautiful project, through September 21, 2008 we will make available for purchase 350 8" x 8" equivalent engraved bricks to members and friends of the Brecksville United Methodist Church. You can personalize the brick by selecting the message and symbol to be engraved. You can commemorate and celebrate the memory of a loved one, special person, your family name, memorialize a special event or record a scripture message. The engraved words will be painted black for easy reading.
The bricks will be available as follows:
| | | | |
| --- | --- | --- | --- |
| | 1. | 8" x 8" brick for $150 – up to six engraved lines, up to 18 characters per line. | |
| | 2. | 4" x 8" brick for $80 – up to three engraved lines, up to 18 characters per line. | |
A symbol can be added to the brick for an additional $15. If added, a symbol will utilize 1 line of engraved space.
Should you be on a fixed income, or have special circumstances, please contact the church office. We want to make the commemorative bricks available to everyone.
HOW TO ORDER
The initial order period will commence now through the September 21, 2008. There are several ways to purchase your brick(s):
| | | | |
| --- | --- | --- | --- |
| | ▪ | Order online at www.brickrus.com/order/bumc; | |
| | ▪ | Visit the church's website (www.brecksvilleumc.com) and follow the link to order online; | |
| | ▪ | Visit our table after worship service; or | |
| | ▪ | Request and complete an order form from the church. A brochure and order form will be mailed to members as well. | |
·
Payment can be made via check payable to the Brecksville United Methodist Church, marked "Celebration Garden" and mailed to the church (65 Public Square, Brecksville OH 44141, Attn. Celebration Garden), included in the Sunday offering or hand delivered to the church office.
LOCATION OF BRICKS WITHIN THE PATIO
Please let us know if you would like to have several family members or friends bricks placed together and we will try and accommodate.
If you have any questions, please contact the church office: office@brecksvilleumc.com

"Living in Christ, Serving in Love"
Below are symbols that you can add on your brick. If you wish to use one of these symbols, please put the name of the symbol in the comments section on the next page.